Buffet Lunchi Menu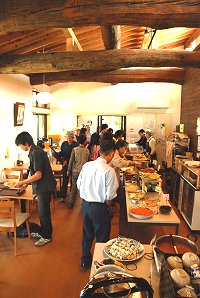 Dishes in the restaurant is used a lot of fresh vegetables made in Garten Vegetable Club and from local farmer's market Kitera. In addition, Oren-chi juice which is made from fresh mikan of Akizuno is awesome.
You can enjoy the season in the courtyard when it's sunny.
We cultivated a field, planted seeds, and grew vegetables in this land of Akizuno, so please enjoy the fresh vegetables dishes.
After lunch, why don't you take your time with sweets at Valencia Batake in Akizuno Garten?
Please visit here and spend precious time in the countryside.
RESTAURANT  CONCEPT

Local・Fresh・Light Taste・Dashi・Home-made・Vegetables
Planting seeds and making vegetables are the beginning of Farmer's Restaurant Mikan Batake
Here are some buffet menus.