About Dinner or Banquet
If you want to enjoy meal except slow food lunch buffet,
You can make a reservation for banquet, dinner party, reunion, or reception after a Buddhist memorial service as a group.
Inquiry: tell 0739-35-1199
Food
We take a reservation for a group of over 15 people. Maximum people would be about 40.
We can prepare Japanese Kaiseki which uses fresh vegetables and fish in local. Also, we can prepare Hot Pot Dishes.
Food for Banquet
Japanese Kaiseki 3100 yen, 3600 yen, 4200 yen
Hot Pot Dishes 3100 yen, 3600 yen
Variety Dishes 2600 yen, 3100 yen
*tax included (extra charge for drink)
You can use a Japanese-style room.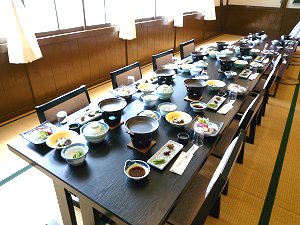 If you want to have meals with a relaxed atmosphere, you can use one of former classrooms which is a Japanese-style room.
It is good for a group with children and a person who wants to sit on tatami.
In addition, for elderly persons who have difficulty of sitting on tatami directly, we prepare a table (for maximum 20 people) for a Japanese-style room.