Lunch Box

Akizuno Matsuhando Lunch Box 2000 yen
(you can eat in Akizuno Garten.)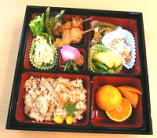 We don't take reservation for slow food lunch buffet.
If you come with a group and you want to make a reservation, we can offer you Matsuhanado Lunch Box. It's full of dishes in season.
Minimum order is 20.
Enlarge the image
Slow Food Lunch Box
1400 yen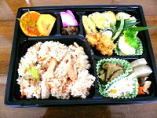 We put the best selection of dishes from slow food buffet menu on a day. Lunch box menu would be change in season.
If you make a reservation, you can receive it from 10:30 in the morning.
Enlarge the image