Top Menu

4558-8 Kamiakizu Tanabe Wakayama, Japan
Inside the Green Tourism Facility, Akizuno Garten
TEL : 0739-35-1199 FAX : 0739-35-1192
information
Focusing on Slow Food and Local Production for Local Consumption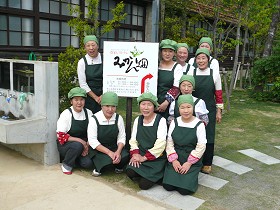 Recently, the influences of fast food on the body and emotion are talked even in the countryside. Meanwhile, as a warning of ruined rich food culture, slow food has been proposed from Italy. About eating habit, the movement of returning to humanly and slow rhythm from unnaturally fast and artificial has spread to the world.
In Japan, people are almost forgotten 'Regional Cuisine', the food made with traditional way using ingredients in the region. In old days, people lived with fresh ingredients from the nature in 'Ichiri-shiho' (which means'within 4km'.)
You may find what Japanese people almost forget here.
Slow Food Lunch Buffet
◇Slow Food Lunch Buffet
Price : 950 yen
Open : 11:30 - 14:00 on weekdays
11:00 - 14:00 on weekends and holidays
Reservation Unavailable
Limited 100 people in a day
Please enter the restaurant until 13:30.
◇Slow Food Lunch Buffet in a Special Room
(Reservation Required)
Price: 950 yen
Only a group of over 25 people
Please call for a reservation: 0739-35-1199
You can enjoy slow food lunch buffet in the classroom of a former elementary school.
Reservation time is between 11:00 to 12:30.
There are more than 30 kinds of dishes for slow food lunch buffet every day.
Without using frozen food, local mothers cook dishes with local food especially focusing on vegetables in Garten farm and from local famer's market.
We'll treat you with dishes which you can feel the country of Akizuno.
◇Slow Food Matsuhanado Lunch Box (Reservation Required)
We offer Matsuhanado Lunch Box for a group with reservation. There is assorted food in season. Minimum order would be twenty.
Enlarge the image
◇Banquet / Dinner (Reservation Required)
Click
here
for the detail
We take reservation for a group of over 20 people.
Please use for reunion, banquet, or reception after a Buddhist memorial service.
Food: Japanese Kaiseki, hot pot dishes, assorted dishes, and more
Reservation time is between 11:00 to 18:00. It's about two hours for a group.
Aim for a Real Farmer's Restaurant.
 We lent a farm which was left alone, worked together, and resurrect the farm to make vegetables for the restaurant.
We set out to be a real farmer's restaurant, starting with making ingredients on our own.
To see our farm, please visit '
vegetable blog
'.

Inside Akizuno Garten
The former Kamikizu elementary school made of woods is left as it is in front of the restaurant. There are woods of Satoyama and nostalgic view around there.
You can enjoy the lunch in the courtyard when it's sunny. We hope that you'll feel comfortable and have relaxing time in the restaurant.